Testimonials
Honesty, Spot on Workmanship
Communication was the key for me choosing Caravan Perfection (honesty straight up and no sales speech).  Workmanship was spot-on and delivered as expected from such a great team.  Job well done guys.
Steve Warton – Supreme caravan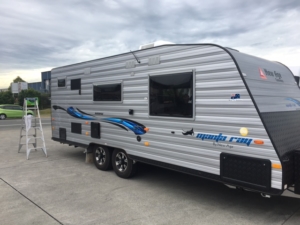 What an exceptional team they are!
After sustaining major hailstorm damage to our new van in NSW, we knew who we trusted to do the repairs, Caravan Perfection in Qld.  They had previously done a roof job on our Motorhome a few years ago, and so after a quick patch job done in NSW, we headed straight to them.  They made the whole process easy, work was completed on time and to a high standard, just as we knew it would be.   If you need your van/motorhome repaired, these guys are the best by far!
Thank you Mark, Dave, Mel and the team, we are very happy with our 'new again' Van
Cheers
Amanda & Steve- New Age Manta Ray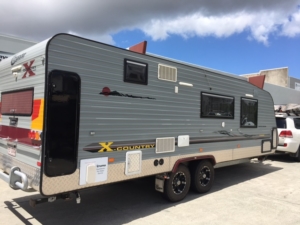 Caravan Perfection are extremely helpful, honest and straight. Have provided a level of customer service above and beyond what was required, very professional with an extremely high quality of work. Wouldn't go any where else. Professionally they are very good and trust worthy.
Merv Bailey – Crusader X-country
Excellent Service
We have always had excellent service. A great team.
Marianne Neale
Feel Relieved and Confident
Great facility. Literally a drive through service. Come in one drive way, unhook, go over your van with Mark or David with what you'd like repaired or serviced and drive out the other end feeling relieved and confident you've left your van in good hands and excited to pick it up when it's all finished.
All Transport Flooring
Eye for Detail
Great workmanship with staff that have an eye for detail. Thanks heaps for the work done.
Dave Anderson
The Name Says It All
Excellent work carried out by these guys and nothing is too much trouble. "THE NAME SAYS IT ALL".
Lynne Redmond
A Fine Job
What a reliable team – on the job quickly and do a fine job. Yes I say 🙂
Kenny Booth