Get Those Niggling Repairs Taken Care Of Properly
When you're on the road in your home-away-from-home, it's often the little things which can frustrate you.
Something breaks or doesn't work properly any more – just when you really need it. Left unrepaired it will probably get worse and may cause peripheral damage to other components and become a bigger expense (and stress) than it should.
We'll make sure that doesn't happen to you.
Just some of the repairs we do every week
Roof reseals – to prevent any nasty leaks
Fix digital and satellite antennas and receivers – to ensure you enjoy TV wherever you are
Fix door and cupboard catches and locks – so your possessions stay safe and secure
Gas equipment repairs – to keep you safe and cooking (undertaken by a qualified gas fitter)
Replacement of gas struts to front boots – often not repairable, replacement is easier and cheaper
Repair or replacement of awnings – so you and your things stay dry
Water damage and leak detection – left unchecked water damage can spread rapidly
Slide-out repairs – so your unit slides easily and smoothly over and over again
Replacement showers – important for eliminating water damage and keeping your van hygienic
Timber frame repairs – we replace rotten timber to restore strength and stability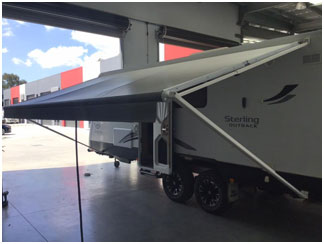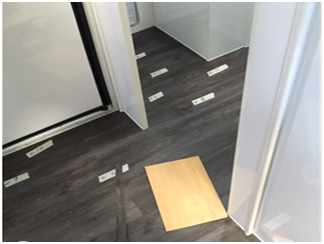 New vinyl floor is super smooth and very stylish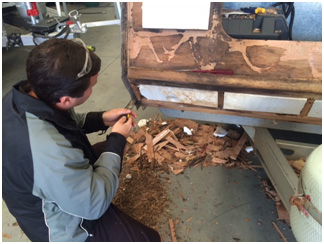 The tedious but important process of removing rotten laminate – caused by water damage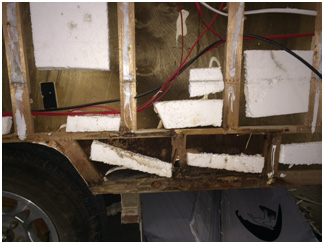 A rotten timber frame revealed – ready to replace and restore van strength and safety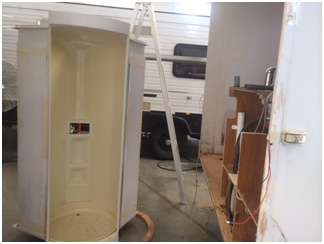 Replacing an old cracked shower unit with a stylish new compact unit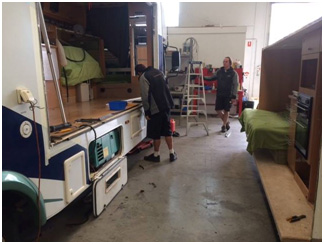 Repairs to a slide out unit – we removed the jerks and made it glide perfectly